>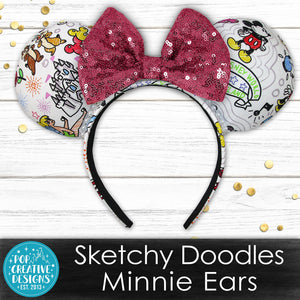 White Sketchy Doodles Pattern Fabric Ears with Matching Fabric Headband. Pink Sequin Bow and white faux pearl beads. Each ear is filled with Polyfil on the front side for an animated look, backside is flat back with no Polyfil. Each ear is also supported by a hard foam insert to ensure the ears stand up.
IMPORTANT NOTE: *The pattern placement shown in picture WILL VARY as each pair of Minnie Ears is unique. No guarantee can be made that your pair of ears includes specific characters/elements.*
Ears fit children and adults.
I ship all orders through USPS via Priority Mail 1-3 business days shipping.
PLEASE NOTE: All sales are final, there are absolutely no returns or refunds.
*Also please remember that the ears are not made to withstand hot conditions. Make sure to keep them stored in a cool environment and never leave them in the heat. They will last a long time as long as they are taken care of.
PLEASE DO NOT contact us about Custom Orders for Wooden Signs or Mouse Ears. We are ONLY accepting custom orders for Wedding Invitations at this time. Thank you for your patience. Have a magical day!